Girl Scouts
In 2017, Girl Scouts of Virginia Skyline (GSVSC) emailed the Junior League of Charlottesville (JLC) after conversations with the International Rescue Committee and International Neighbors. They identified a need to support girls in the English Language Learner Program at Greenbrier Elementary.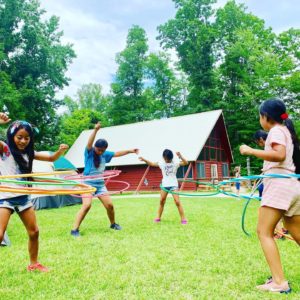 With our Mission of empowering women and girls in Charlottesville and the surrounding counties through mentorship, GSVSC thought the JLC would be a suitable partner to lead a grant-funded troop in the Charlottesville area. From 2017–2023, we led Outreach Troop 1495. In our first year, we served 13 Girl Scout Brownies (2nd and 3rd grade) from Mexican immigrant and Nepalese refugee families.
Before the COVID-19 pandemic, a group of our members met biweekly with the troop throughout the school year to share dinner, lead the girls in completing badge activities, and take the girls on periodic badge-focused field trips.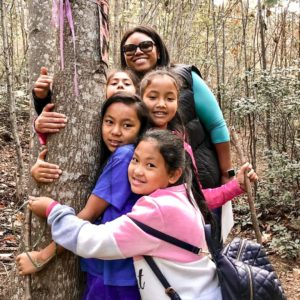 During the pandemic, in compliance with social distancing recommendations, we hosted monthly Badge-in-a-Bag drop-offs. At each visit, we briefly checked in with each girl at her doorstep and delivered a bag with some healthy snacks and all the supplies needed to complete a Girl Scout badge at home.
In 2021, Troop 1495 served 18 Juniors, Cadettes, and Seniors (5th to 9th grade). Since its founding, 12 girls have been with the troop and have invited their sisters, cousins, and neighbors to join the troop and increase its impact.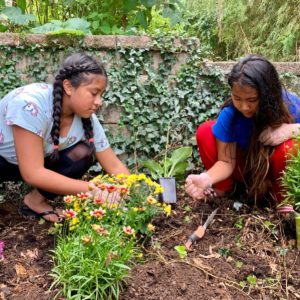 During our partnership, we had the opportunity to partner with many other local organizations to help them earn some of their badges. Some examples include field trips to the PB and J Fund kitchen (Cooking badge), Wildrock (Outdoor Adventurer and Hiker badges), the Charlottesville Ballet's Nutcracker (Dancer badge), James Monroe's Highland (Outdoor Art badge), and Computers4Kids (Computer Expert badge). Annually, GSVSC provided grant funding supplemented by our League operational budget and offered exceptional opportunities like a chance for the girls to attend a weekend overnight camp in the Summer of 2019.
Working with Troop 1495 allowed JLC members to provide friendship and valuable mentorship to young girls from underrepresented groups in our local community. We hope that providing this safe and supportive space also empowered the female caretakers of Troop members as they undertook their pursuits to establish themselves in the community.