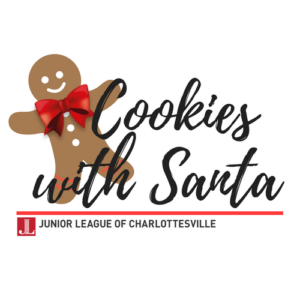 The Junior League of Charlottesville is excited to host a special Cookies with Santa children's event, which will be held at The Shops at Stonefield, November 29 through December 9, 2018. Children will enjoy one-on-one time with Santa, take photographs and of course, enjoy cookies!
Tickets are required for each child, regardless of age.
Please input the number of children in your party when purchasing your tickets.
Click here to purchase your tickets!
Time slots for each date are below.
November 29, 30 and December 6, 7: 5:30pm, 6:30pm
December 1, 8: 10am, 11am, 2pm, 3pm
December 2, 9: 1pm, 2pm, 3pm
Support the mission of the Junior League of Charlottesville by visiting Santa at Stonefield!