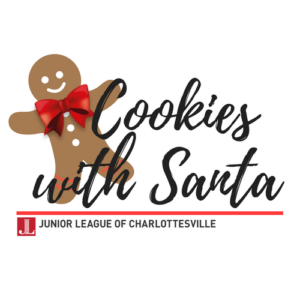 The Junior League of Charlottesville is excited to host a special Cookies with Santa children's event, which will be held at The Shops at Stonefield on from Friday Nov. 29 through Saturday Dec. 7. This year, the location is in the Community Room, located in the block of stores between Burger Bach and Lululemon. There are two wreaths on the front doors.
Children will enjoy one-on-one time with Santa, take photographs and of course, enjoy cookies!
There will also be sessions for pets to take photographs with Santa.
Tickets are required for each child, regardless of age. Scroll down to see all 2019 sessions for Cookies with Santa.
Please input the number of children in your party when purchasing your tickets.
Please note that there is $0.75 transaction fee with your purchase.